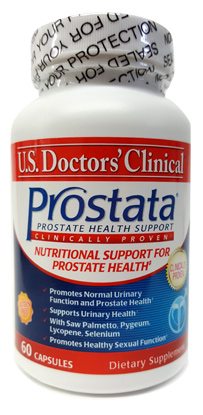 Prostata
1
Prostate Report
Prostata
Horrible lab score on this product that is put out by U.S. Doctors Clinical out of the Los Angeles area. It has sold over 4 million bottles going back to the days when the product was originally introduced by Gero Vita, the company founded by the controversial Almon Glenn Brasswell who was given a questionable pardon by then President Bill Clinton.
Sold in most major drugstore chains like Rite Aide, Walgreens, CVS and others. It is incredibably expensive for what you get. It recorded a SHOCKINGLY low total sterol score of only 3.72 sterols!! That's basically worthless. It doesn't even have 1 mg of beta sitosterol. Imagine that, you pay about $40 for a bottle and get basically zero sterols.
Like so many of the razzle dazzle claims of the prostate supplement companies their product box say, " Prostata is manufactured in a state-of-the-art facility in the U.S.A. Our manufacturer follows the rigorous policies and procedures of cGMP (current Good Manufacturing Practices)." All of the ingredients in Prostata are thoroughly tested for purity and potency." Sounds great, and I'm sure their manufacturer is big and good, but if they are only putting in tiny, tiny amounts of the good stuff – who cares!
I was extremely disappointed to learn that the product that has been purchased over 4 million times underperformed so badly in the independent laboratory tests.
Prostata Supplement Facts