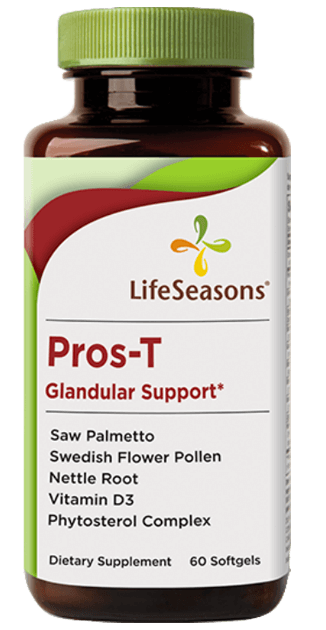 Pros-T
4.5
Prostate Report
Pros-T
This outstanding product is comes from the LifeSeasons company based in Lewisville, Texas just outside of Dallas. It should come as no surprise that their product finished in the Top 3 since they take a serious approach to their formulations and have a very impressive scientific advisory board which develops their formulas.
The lab test show it contains an outstanding 683 mg of total sterols and a sensational 375 mg of Beta-sitosterol. These are both fantastic numbers. Remember, beta-sitosterol has also been shown to help reduce bad cholesterol as well as help your prostate. Another great reason make sure you take it and get the women in your life to take cholesterol health supplement that has beta-sitosterol in it.
The rest of the formula contains Vitamins D3, zinc and selenium which are all crucial to the health of your prostate. Zinc and selenium deficiencies have been proven to lead to prostate problems. The formula also has 100 mg of pumpkin seed oil, stinging nettle extract and very high amount of Swedish pollen extract with has also been shown to help with prostate issues.
You can get this great product at all Whole Foods Markets and online directly from the company. A bottle sells for $43.99, which is a bit on the high end, but you certainly get what you pay for. Top quality costs money and this is money well spent. Outstanding product.
Pros-T Supplement Facts