While the natural prostate pill industry has many great products that can significantly improve your prostate health. There are also many traps, tricks and frauds on the market that you need to avoid. Here are some of the most common scams you should be on alert for:
Lying About Ingredients – Many companies lie about what is really contained in their product. What they say on the label is NOT what is in the bottle. That is why I spent so much money on lab tests to showcase the good companies and expose the bad companies. I tested and ranked every product based on scientific lab results. The most effective ingredient, according to all the published clinical studies for prostate health, is Beta-Sitosterol. If you don't have that, you don't have anything. So the lab reports on each product shows you what each product contains—and that is the key. Remember, advertisements can lie or exaggerate ...but lab reports don't.
Fake Review Sites – The Internet is flooded with fake prostate product review sites. Some are actually run by kids in high school. The products promoted by crooked websites are: Prostavol, Prostara, Proaxil, Prostarex, Prostaleaf, Prost-A-Relief, Prostatrinex and Prostafin. The enormous success of our reviews and clinical lab tests has spawned crooked imitations. Don't be fooled.
Free Trial Scams – You often see ads offering you a free bottle of a product and you're only required to pay a small shipping fee of about $5. Most of these are merely credit card scams designed to get your credit card number and then secretly charge you as much as $170 for more products only a few weeks later! Many of these "Free Trial" offers are secretly operated by companies based offshore, thereby evading enforcement.
Saw Palmetto – This product does not work. It has been touted for years as a wonder herb for prostate health. It's complete BS. The REAL clinical trials show that Saw Palmetto is no more effective than a placebo (sugar pill). Just because a product is sold in a national drugstore, or at a top health food store, doesn't mean it's good. It does not work – don't waste your money.
Prostavol Mega Scammers! Beware!!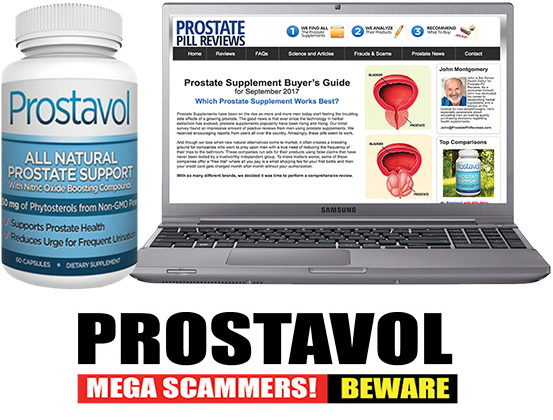 A classic example of a fake prostate supplement review website is the ProstatePillReviews.com, which was created to help sell the product Prostavol.
This is one of the many websites that attempts to trick you into buying their product with a false review website that gives the appearance of being serious, credible and honest.
The website claims to have evaluated brands using their in-house labs to verify that the ingredients are "in the pills themselves." This is comical. The website was started in a residential house and they do not have an in-house laboratory. It's just a slick scam.
Back To Top
Amazon Fake Reviews

Amazon is great. So quick, easy and convent. It's no surprise that Jeff Bezos, the founder of Amazon, is the richest man in America.
However, when it comes to prostate supplements you have to be very careful because Amazon is filled with worthless prostate pills and supplements with FAKE ratings and fake reviews. Many prostate supplements have 5 star ratings—they sound wonderful - yet the pills are terrible. We tested them in the lab. It turns out that these "5 star reviews" are in fact placed there by the companies that own the product! They are not real customers. There are also counterfeits on Amazon. Be careful. It's always best to order directly from the website of the manufacturer to make sure you are getting the real product—not some phony.
Back To Top
eBay Troubles

Like Amazon, eBay is also filled with fake products, false reviews and inflated claims. I found more examples of trickery and fraud on eBay than Amazon because it is apparently much easier for the scam artists to give fake reviews and sell counterfeit products on eBay. Again, if you can, it is best to buy directly from the manufacture or at your local store so you are sure you are getting the real product you want - not some rip off bottle of junk!
Back To Top
Australian Super Pill Email Scam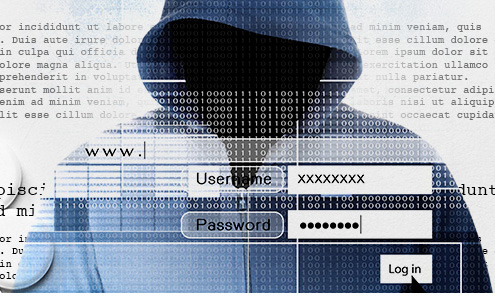 So many men are getting unsolicited emails from a company touting a "Prostate Miracle Pill from Australia". It's BS. The name of this pill keeps changing. ProstateMax, Prostate Strike, Prostate King and Prostate Formula 759 are just a few of the names this scam has been touting. They reference a "new clinical study" and say you have been selected to receive a FREE six month supply. It's a lie. Don't fall for it. These are "spammers" trying to get your credit card number to sell on the dark web. They don't even send you anything - they just charge your credit card. So if you get an email out-of-the-blue telling you that you won a free six month supply of "the world's best prostate pills," don't fall for it—it is a scam!
Back To Top
Fake Ingredient Trick

Here is how sneaky chinese manufacturers trick American companies with FAKE Ingredients: Herbal compounds are shipped in 25 kg drums. When the drums arrive at customs in the United States, custom representatives test the ingredients to see if they are authentic. The way they test the ingredients is to take a sample from the top part of the barrel. So the crooked manufacturers in China load up the top 5-10% of the barrel with good ingredients, knowing that is where the test sample is taken. The remainder of the 25 kg drum is then filled with worthless crap! In the since Beta-Sitosterol is white in color, often the sneaky manufacturers would fill 90% of the drum with powdered milk, because it is white. Some American companies are so crooked they don't care! They cover their ass by testing only the top part of the drum, knowing the rest is pure worthless junk, but they are covered and can make higher profits. Too many sharks in these waters! That is why my testing is changing the industry!! Bye bye crooked companies, your tricks are exposed!
Back To Top
Free Bottle Offers!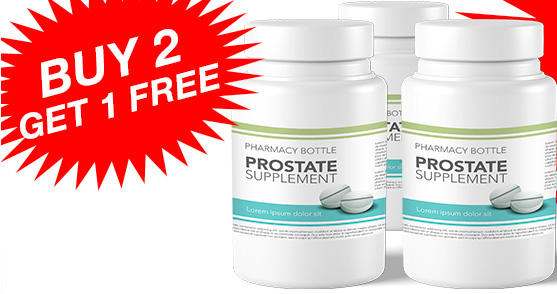 Have you seen or heard an advertisement for a "free trial bottle" of a prostate supplement? Well very often these ads are complete scams. Here is how the scam works. You call the company's 800 number to claim your free bottle of the prostate pills advertised. They get all your information and tell you it's only about $5 for the shipping. Now they have your credit card. In 14 days or 30 depending upon the company they send you another bottle of the pills at full price – normally over $75!!
They will then continue to send you the pills every month until you call them to cancel future shipments. The problem becomes that the scam companies – will never stop sending you products until you literally call your bank and cancel your credit card! It is a nightmare!
Don't confuse Free Bottle offers with "Continuity Clubs." Prostate auto delivery clubs are becoming very popular – they are offered by many legitimate companies as a service of convenience. Just like Dollar Shave Club which sends you new razors automatically every month. Many guys like to get a shipment every month so they don't have to keep calling the company, and there is usually a cheaper price because it's easier for the company. Just make sure you read the fine print and be sure you are dealing with a reputable company.
Back To Top
Prostate Patch Is Fraud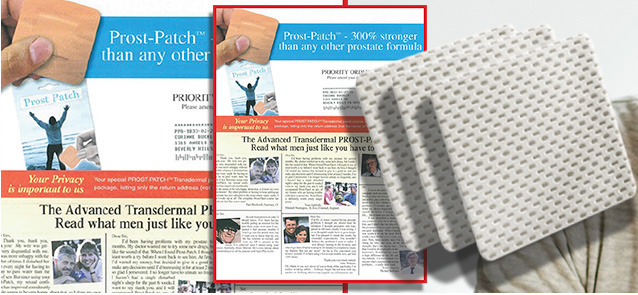 Perhaps on of the most ridiculous products claiming to end your prostate problems is the Prostate Patch. It's absurd. The fly-by-night company behind this worthless contraption claim there are secret herbs infused into this patch which are released and target your prostate. Pure nonsense. They are going after men who used the nicotine patch to stop smoking and making the comparison. If you get something in the mail from this crooked crew—toss it in the trash where it belongs.
Back To Top
Fake Rolex, Fake Gucci, Now,
Fake Prostate Pills.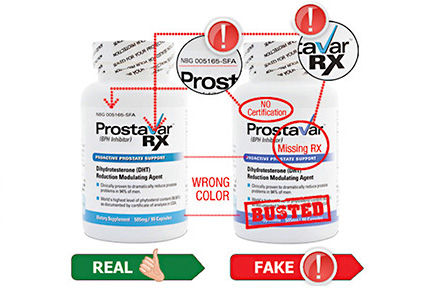 Due to new research and clinical trials showing the health benefits of top quality prostate products, they have become extremely popular. Sales are expanding every year and when a product becomes popular, a market for knock-offs and counterfeits springs up. Prostate pills and men's sexual health pills are an easy product to counterfeit. Unfortunately, it is tough to police fly-by-night companies selling counterfeit products on giant websites like eBay, Amazon and others. They make it easy to sell fake pills. If you see a leading prostate pill brand being sold on eBay or at some other website for a very, very low price, chances are it's a fake.
Remember, these top products sell in the millions because they work, and it's easy to manufacture a fake bottle. It's not much different than guys on the street of big cities selling fake Rolex watches and fake Gucci and Prada purses. It is always best to deal with a reputable chain like GNC, Vitamin Shoppe or other leading stores. Or if you shop online, make sure you buy your prostate supplement pills directly from the actual manufacturer. This way you know you are getting the real deal.
Back To Top
Fake Doctors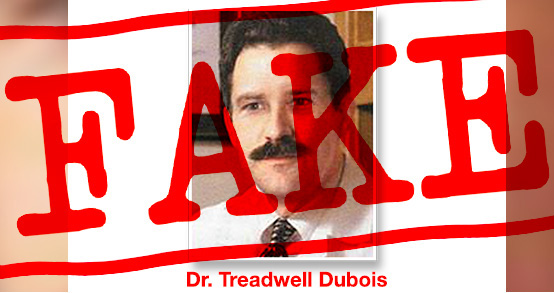 Believe it or not some marketers are so crooked that they actually use fake doctors in an attempt to sell prostate supplements.  You see these fake doctors either on websites on the internet or in brochures that are sent out in the mail.
One well known fraud uses a photo of a doctor identified as Dr. Treadwell DuBois. He is presented to be a urologist who went to Harvard Medical School. It's not true.
It is so easy to look up the credential of a doctor on the internet to see if they are legitimate.  Take Dr. Dudley Danoff who has written the great article on the PSA test here in the guide. He went to Princeton and Yale Medical School. It's super easy to verify.
Remember, if you have any questions about a doctor all you have to do is check them out on the internet. It's no question that an endorsement or input on  a formula from a top medical doctor is a strong endorsement of a products quality. So there will probably be more characters like this fake Dr. DuBois that will come along. Don't believe that just because a company claims that their product is endorsed by an urologist that it is true. Sometimes it is a fake doctor.
Back To Top
Mail Order Scams...
Beware of your Mailbox!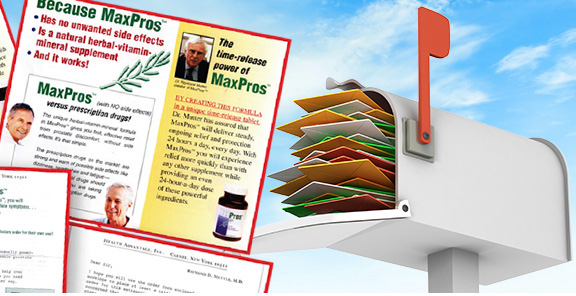 If you have ever ordered a prostate supplement chances are you were put on some sort of mailing list of men who bought prostate supplements. Some companies sell their customer lists to other prostate pill companies and you end up getting bombarded with new offers for other prostate supplements. Most of them exaggerate their benefits – some worse than others. One nice thing about the companies who have an excellent prostate supplement is the fact that they never sell their customer list.  In fact, each of the Top 10 rated supplements we have tested – none of them sell or rent the names of their customers.
Back To Top