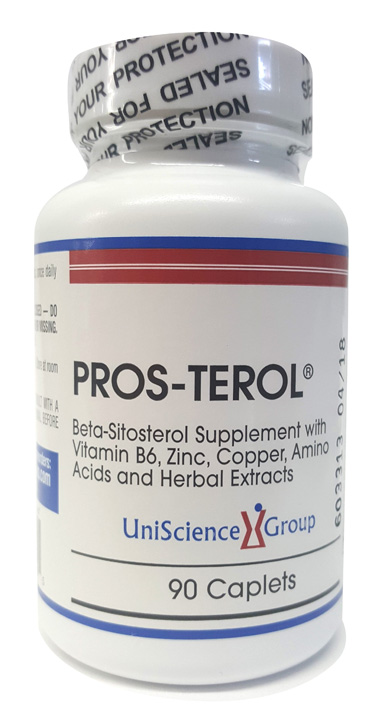 Prosterol

4.5
Prostate Report
Prosterol
This powerhouse formula smashed it's way to the number four spot with an incredible laboratory performance and well-rounded formula. From the Florida based company Uniscience Group, Pros-Terol produced a super Beta-sisterol score of 361 mg and a "total sterol" score of 756 mg. Both are spectacular numbers!
This fourth place finish in the independent laboratory tests has to be particularity gratifying to the Uniscience Group because they are a direct-to-consumer company and for years have been touting how much better Beta-sitosterol is than saw palmetto and how their product delivers more essential sterols than any of the saw palmetto products on the market. The head of their scientific advisory board is Dr. David Blyweiss, and he certainly knows his stuff as these scores confirm! Most "experts" have said for years saw palmetto was the gold standard in prostate health. If you have read any of our writings on saw palmetto or seen any of our videos you will see that we too have been saying that saw palmetto is a massive scam that has done more damage to men's prostate health than any other herbal ingredient in history. It's true! If you have taken a "saw palmetto" product I'm sure you got terrible results and it did not help your prostate issues one iota. Well the Uniscience Group definitely know what they are talking about and these lab score validate their claims and hard work engineering a super prostate product.
In addition to the high sterol content, their formula (see the Supplement Facts below) also contains some of the best compounds: Quercetin and Pomegranate. They two are powerful polyphenols that many recent studies have shown to be crucially important to your prostate health. I think it's no coincidence that 2 of the top 3 products (ProstaGenix and Pros-Terol) both feature these two scientifically vetted prostate beneficial compounds.
There is also a mixture of other decent compounds in their formula, though the presence of Lycopene is not necessary since Lycopene doesn't work! All Lycopene is junk. But, it's only 5 mg of the formula and the rest of the formula is a home run - so no need to worry about the presence of Lycopene. Bottom line: Outstanding laboratory scores, intelligently formulated product. This one is a big winner and will give you great results!
Prosterol Supplement Facts