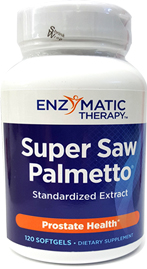 Super Saw Palmetto
1
Prostate Report
Super Saw Palmetto
This company has built a reputation as a well-respected company that relies on scientifically formulated products. The company is located in Green Bay, Wisconsin – they play a little football up there! So to see their lab results do so poorly it was literally shocking!
On their website they charge $36.95 for a bottle of this product which contains 120 soft gels which they claim is a "standardized extract". That phrase is areal buzzword in the nutrition industry. Often people are in stores and asks a clerk about a product and how to tell what's good and what's not good and they say, "oh look for a product with standardized extracts that way you know you are getting good quality. Well that is evidentially not the case here!
Their lab result showed each serving contains not even 1mg of sterols? How is that even possible? Not even 1mg? Something is very, very wrong here guys. And $39.95 a bottle? Just think how crazy that is. The top product contains 950mg of sterols – PER DOSE. That's in just two capsules. So this product has 120 soft gels in a bottle, which is 60 doses. There is not even 60mg in the entire bottle. You would have to take almost 16 bottles of this to equal just two capsules of our number one rated pill. Isn't that incredible. 16 bottles would cost you about $640. It's disgusting to see such a laboratory analysis result like this. Shocking. A scam.
Super Saw Palmetto Supplement Facts