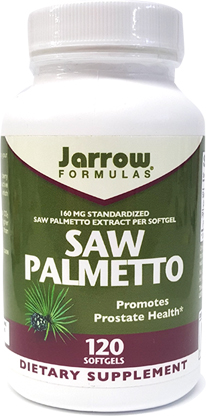 Saw Palmetto
1.5
Prostate Report
Saw Palmetto
This was another one of the laboratory test results that both surprised and disappointed us. Jarrow Formulas has a reputation as one of the countries top nutritional formulators and manufacturers. The make a wide range of products that are very well respected. However the total sterol score recorded on this product was only 67.2 mg. Not very good.
What is most surprising is the fact that they claim to have 160mg of standardized saw palmetto extract of 85% in each capsule. The lab test score is based on TWO of the softgels – so it should have had 320mg in two pills. The product label also claims they have 100mg of Phytosterols. So the independent lab test should have shown a score of around 400 - 420mg. So to get 67.2 is disappointing to put it mildly.
This product normally sells in the price range of $15 to $20. So it probably appeals to many men at that low price. But is it really a good deal? For $15 you get 67.2mg of sterols – where as some of the top products have 500mg or more and cost around $39 - $49. So if you bought 3 bottles for a total price of $45 and took 3 times the amount you would get 67.2mg x 3 which equals 201.6 mg – which is still not even HALF of what you would get from the upper echelon products. So this is another example of a low priced product not being the bargain you were hoping for.
Saw Palmetto Supplement Facts