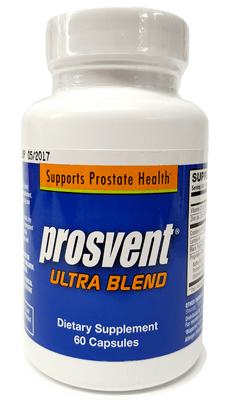 Prosvent Ultra Blend
2.5
Prostate Report
Prosvent Ultra Blend
This prostate supplement has been the second most widely advertised product in the county behind Super Beta Prostate for the last five ears. It is advertised via a 30-minute TV infomercial featuring Dr. Larry May, an internist who is a graduate of Harvard Medical School! Although Dr. May is not an urologist, he does an excellent job explaining prostate problems and why they occur, and how a good, strong prostate supplement can be helpful.
While the TV show might be a good education vehicle for men – the laboratory test results were nothing special. The single most important market to evaluate a prostate supplement is the amount of "total sterols" it contains. The secret laboratory analysis shows it contains 106mg of total sterols per serving. This is an average score. When you compare this 106mg to the Top 10 products it not really even close. There are products with 7 and 8 times as many "total sterols" per serving.
The best thing Prosvent does is educated men with their TV infomercial. This is a great service because it creates an awareness of how men need to look after their prostate, how important prostate health prevention can be, and introduces millions of men to natural supplements. Great TV show but the actual formula needs to be strengthened. Very disappointing lab scores.
Prosvent Ultra Blend Supplement Facts