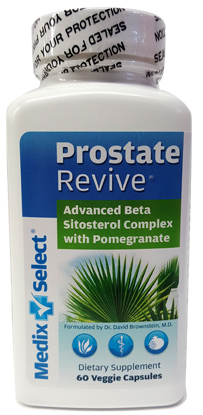 Prostate Revive
3.5
Prostate Report
Prostate Revive
Prostate Revive is advertised very heavily on the Internet by Dr. David Brownstein, who is a well-know holistic physician based in West Bloomfield, Michigan where He is the Medical Director of the Center for Holistic Medicine. Dr. Brownstein is the formulator behind this top-rate product and all products from his company Medix Select, which is based in West Palm Beach, Florida.
Very often the big advertisers talk a big game and make big promises but deliver a "no action" product. Not the case here. Dr. Brownstein has put his formula in a veggie cap and has formulated it masterfully which our laboratory tests confirm.
The key to the effectiveness of a prostate product is the levels of sterols. In the sterols category it scored extremely well showing each serving contains 372mg of total sterols, with 279 of the 372 coming from beta sitosterol. The 372mg of total sterols was a top 20 score out of the products we tested.
The formula also contains vitamin D3, vitamin E, selenium, copper and as well as some Zinc. It is sold only on the Internet and at a cost of about $40-$49 a bottle it is a solid product. With so many doctors offering basically worthless products, it's nice to see a company like Medix Select that not only sells Prostate Revive a rock solid prostate supplement, but they also have a number of other products that are well made.
Prostate Revive Supplement Facts