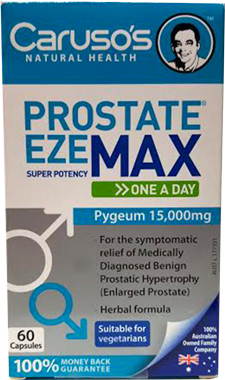 Prostate Eze Max
1
Prostate Report
Prostate Eze Max
This product may have been the single biggest surprises of all the products we tested. In fact, it was the biggest surprise.  The reason we were so stunned at the disastrous results the laboratory analysis revealed is because this widely touted product from Australia claims to have a product specific, double blind, published clinical study showing how effective it is.
We have always been leery of clinical studies conducted outside the United States.  Not that there are not great and honorable scientists outside of the United States, but because it is so easy to lie and make up data knowing that the odds of American authorities or American consumers to inspect the claims of the study would be remote.
We were expecting Prostate EZE Max to score off the charts based on their label claims of 15,000mg of top grade Pygeum in each dose.  So you can imagine our surprise when the secret laboratory test showed it only contains 10mg of sterols!! What a SCAM!! It's completely worthless. And it is extremely expensive!  If we did not do our laboratory testing many men would be forking over $79 a month for a bottle of this crap thinking they are doing the right thing, not knowing they were secretly being swindled!! As we like to say here  - lab tests don't lie!! This product is our Scam Of The Year!!
Prostate Eze Max Supplement Facts