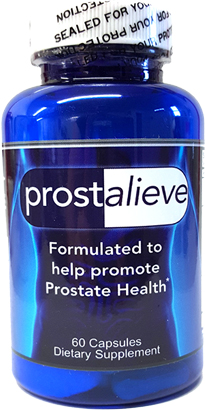 Prostalieve
3.5
Prostate Report
Prostalieve
Here is a product widely advertised on the Internet claiming to be a wonderful product, and it actually had a very good laboratory analysis test score. Good enough to make it into our Top 10 products list!
From a company called M2 Products Group out of Jupiter, Florida they popped out a lab score of 491mg sterols per serving. In addition to this very good score the formula also contains a number of other ingredients that are beneficial to the health and function of your prostate. These other ingredients include Vitamin E, Vitamin B6, Zinc and Selenium.
A bottle of 60 capsules will cost you about $36 plus shipping and handling, so around $40 a bottle. It is not sold in many stores. I believe it is sold strictly on the Internet directly from the manufacturer to help keep the cost to the consumer down. Very good product that can help your prostate.
Prostalieve Supplement Facts