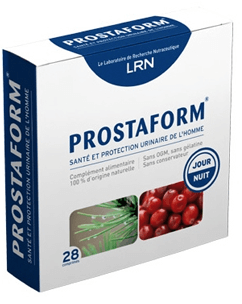 Prostaform
1
Prostate Report
Prostaform
Picked this one up Germany. It's sold all over the EU but won't provide too much help as the low lab test results indicate. 20 mg of Beta Sitosterol and 29 mg over overall phytosterols. Both low - not the worst - but low.
Prostaform Supplement Facts
Cranberry Proantocyanidins 40 mg, phytosterols 60 mg, zinc 15 mg, boswelic acid 10 mg, vitamin E 20 mg, magnesium stearate, gum arabic, coating agents (hydroxy propyl methyl cellulose, polydextrose, medium-chain triglyceride , Talc) dyes (red allura, orange yellow S, tartazine) Contains milk casein.