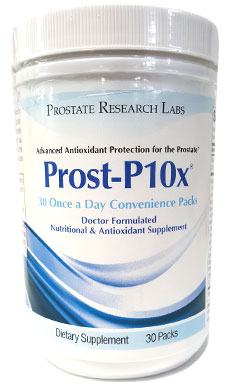 Prost P 10x
2.5
Prostate Report
Prost P 10x
This is a very good product from the company Prostate Research Labs (PRL) based in Irvine, California. This is a very interesting company that features two stars that contribute to their success. First is Dr. Geo Espinosa who heads up PRL Science & Research Committee. Dr. Espinosa, is also the Director of the Integrative Urology Center at New York University Langone Medical Center and a former a clinician, researcher and director of clinical trials at the Center for Holistic Urology at Columbia University Medical Center. Technical formulation and scientific review of all formulations is undertaken in partnership with National Enzyme Corp. He is the once who has formulated the product.
Equally as important is company founder Craig Cooper. Cooper is a successful entrepreneur from Australia who has made a name for himself in America. This company was formed based on his personal story and his diagnosis with prostate cancer. Copper has written an excellent book: Your New Prime: 30 Days to Better Sex, Eternal Strength and a Kick-Ass Life After 40. You can get it on Amazon and we recommend it highly – great read and great advice.
Looking at the product Prost-P10x is a very comprehensive formula that consists of 6 capsules and number of ingredients but has gone light on sterols intentionally. The focus of this comprehensive formula is on compounds that look to support prostate health from a number of different angles. It has the patented ingredient Graminex G63, which is a flower pollen extract which has a solid body of clinical research behind it that shows it helps a wide variety of prostate problems.
The laboratory tests reveal that the product contains 164mg of total sterols. This is a good amount, especially for a formula that not centered around "sterol count." I have included this product in my Top 10 even though the sterols count is lower than some others, only because the rest of the formula is so strong. Specifically, the fact that is has 500 mg of Green Tea Leaf Extract is fantastic. It also has a whopping 500 mg of Quercetin – this is smart as is the 100 mg of Meriva, a top-notch form of Curcumin.
A one-month supply is a bit on steep side costing $89, but even at this price it is a very good deal since this is a very well designed and engineered product. PRL also has a number of other products that are well made including their Men's Probiotic and their testosterone booster called Every Day Male. Top-notch products and reputable company.
Prost P 10x Supplement Facts