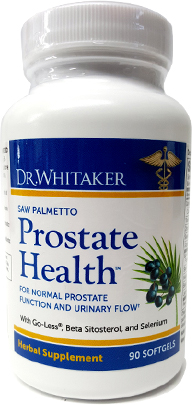 Saw Palmetto Prostate Health
2.5
Prostate Report
Saw Palmetto Prostate Health
Dr Whitaker Saw Palmetto Prostate Health claims that you will "Pee Like a Champ".  I've never met a pee champion before but I'm sure it's a glorious title to have.  Regardless of the cutesy claims and titles, Dr Whitaker makes some terrific supplements and is a well respected company.  I really love the look of their product  labels. But we need to look beyond the fancy titles and product presentation. The only thing that really matters is the lab results.
Right away I noticed on the label that they claim to have 130mg of Beta Sitosterol per serving. The lab report showed each 3 softgel serving contains only 87.8mg of total sterols and only 39.5mg of Beta Sitosterol. This is right in the mid-range for the reports we have seen. I'm not too sure why there is such a huge discrepancy between the label and what's actually in the product. It's sickening and shocking!
Dr Whitaker Saw Palmetto Prostate Health  sells for  $39.99.  There isn't really anything that sets this product apart from pack, it's just sort of average. There are better products available. At that same price you could have a product with 10x the amount of Total Sterols.
Saw Palmetto Prostate Health Supplement Facts