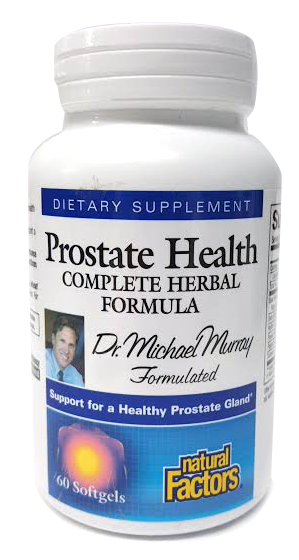 Prostate Health Complete Herbal Formula
2.5
Prostate Report
Prostate Health Complete Herbal Formula
Dr. Murray is one of the world's leading authorities on natural medicine. He has published over 30 books featuring natural approaches to health. His research into the health benefits of proper nutrition is the foundation for a best-selling line of dietary supplements from Natural Factors, where he is Director of Product Science and Innovation. He is a graduate, former faculty member, and serves on the Board of Regents of Bastyr University in Seattle, Washington.
With such a great resume we were expecting a better product and laboratory score from Prostate Health, but we were underwhelmed. In the important category of total sterols the laboratory analysis shows it only contains 106mg – not so great.
The product is manufactured and sold by the company Natural Factors of Everett, Washington. It is sold in health and vitamin retail stores around America. Its only an average product, while Dr. Murray's website: doctormurray.com is still a great source of outstanding health information.
Prostate Health Complete Herbal Formula Supplement Facts